The Little Red Case
May 24, 2019
---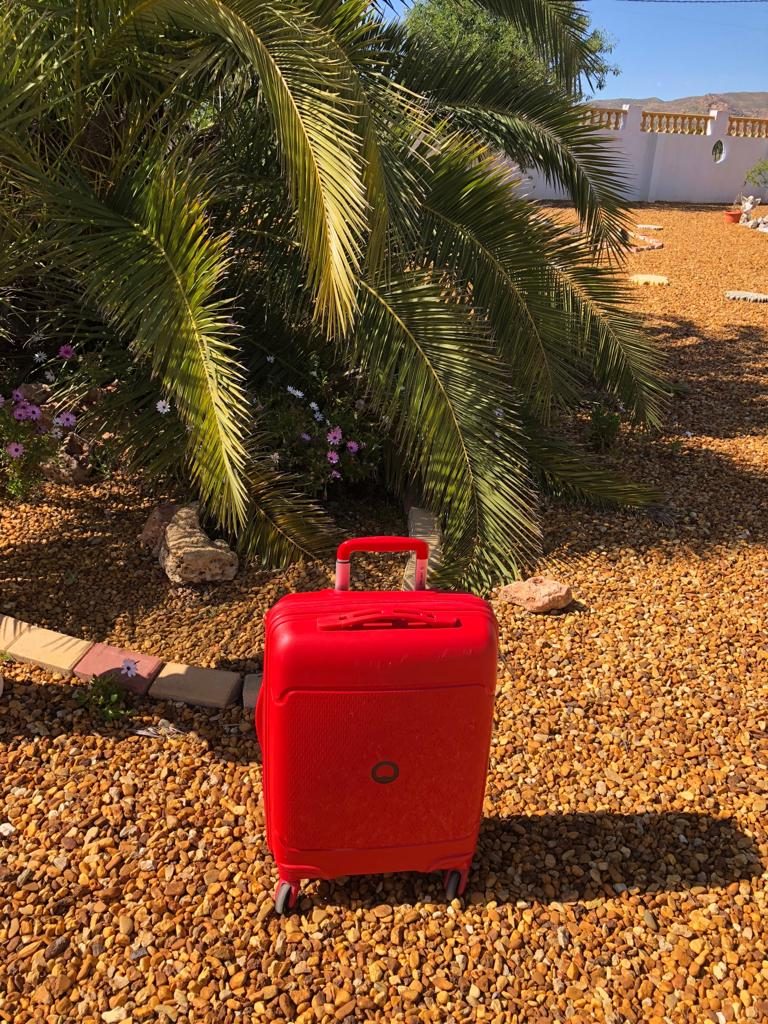 I'm a little red case, and live under the bed in AnaMarie's bachelor pad.
That's me!
AnaMarie is Spanish, born in Madrid, now living in the countryside of the North of England, where she loves to paint. Yes she's quite an acclaimed artist and has even illustrated a few children's books, though her favourite past-time is painting landscape and abstract, in oils.
Now the life of a case can be very dull, or very exciting depending on your owner of course. I have met varying types of luggage on my travels, all who have been grateful to be out, as they commonly spend months under the bed. Others on top of the wardrobe, all endlessly collecting dust, waiting patiently for a pick-up.
I'm one of the lucky ones, as AnaMarie is regularly on the move. At the very least, a quick visit to see her family in Spain.
One saving grace, is though I am several years old, she has never had the inclination to replace me. Probably because her favourite colour is red. So although other items of luggage have been available to her, she has always remained faithful to me. The pair of us are now quite well travelled, and have seen life at its worst, and it's best.
I'm small so able to travel in the cabin when we fly. I hate the thought of being thrown around and chucked into the hold with lots of grumpy old, oversized cases. And sometimes do you know, they're even separated from their owner? That depends on ones' owner I suppose, as to whether they even care, but I'm rather fond of AnaMarie and don't have the desire to work for anyone else.
I remember a few years ago when a new terminal opened in the UK at one of the major airports. It was chaos, everyone getting lost. The luggage I mean, not the owners. What a nightmare that was!
I wonder what actually happened to all those lost cases? I did manage to get some insight on one occasion, when listening to a conversation between two airline staff. Mentioning no names, but!
Those who had lost their labels and couldn't be identified were left in a warehouse called, 'Lost Property.' They lingered there for months and eventually were emptied, their contents sifted into categories, then dispatched to charity shops. Even the airline staff shared some of the belongings. Hum! Do you think that's allowed, and do they do that these days?
Who knows!
Anyway, that's a problem I will never have as AnaMarie keeps me close, in spite of the fact that sometimes they make her put me into this measuring contraption and weigh me to check I satisfy their criteria. Oh my days, my last flight was so funny watching people trying desperately to squeeze their little cases into these contraptions, insisting they would fit when clearly they wouldn't. So what's that all about?
Travelling is so stressful these days, and I much prefer when AnaMarie puts me in the trunk of the car and we drive. Yeah, especially when the weather is good and we go in her fabulous black convertible.
Airports just annoy me. All this packing and unpacking usually because AnaMarie inadvertently forgets something. So my contents get ruffled and searched on a regular basis. She still has a lipstick, hairspray or something in there, and the scanner always finds it.
Sometimes it's embarrassing, particularly when the underwear comes out for all to see. Last New Year's Eve was awful when the red knickers surfaced. Now don't laugh, but there were several pairs of lace red knickers in with the hairspray. Why red? As I said – red is her favourite colour. But she isn't normally a red knicker girl. It's a tradition you see.
That day was really awkward, especially as the poor woman next to us was also searched and so uncomfortable when they found her spare set of false teeth in a little red plastic box.
Red again!
Well! Back to the knickers. Let me explain;
In Latin American countries, Mexico, Peru, Spain, Italy and others, you will see red knickers for sale, particularly on the markets, prior to New Year.
Apparently dating back to Medieval Times the story is that wearing them on New Year's Eve will attract luck, love, and passion for the forthcoming year.
Added to that some families believe that, when you take your suitcase out for a walk just after midnight on New Year's Eve, the next year will be filled with travels.
It should be an empty!
I wonder. What if it's a red case and you wear the red knickers whilst out walking?
Just thinking!
On that note, who makes up all this stuff?
Back to the story, we were returning from Mexico and several pairs of knickers were pulled out, gifts for her girl friends. If only she had put them in the large case in the hold, but they were a last minute purchase so stuffed in with me.
Well it's a bit of fun I suppose and something to laugh about after the event. No doubt next time you see a pair of red knickers you will remember this story. And remember me. You don't often see a little shiny red case. I'm rather unique.
Meanwhile, I hope you enjoy your travels.
And
With any luck my next trip will be to Texas.
I've heard talk of it.
Woop woop!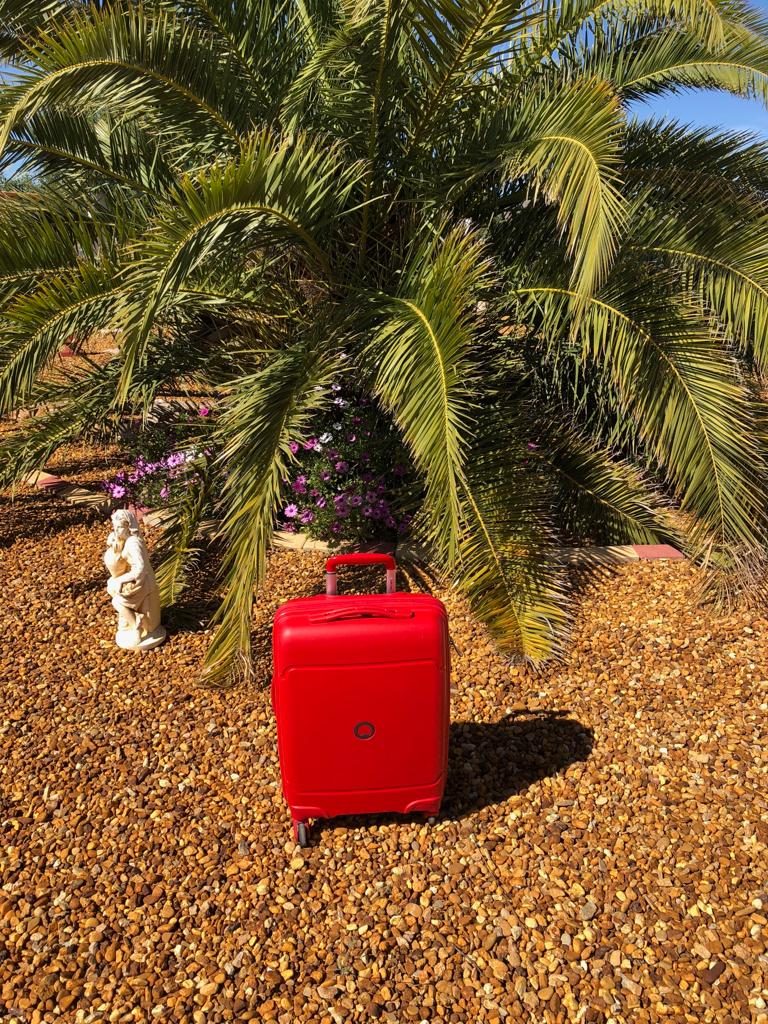 Little Red Case