School visits 2019
January 14, 2019
---
Looking forward to 2019 and working with Authors Abroad on the Able Writers' Programme once again.
Yes, I have recently decided to do some more school visits. I certainly don't do as many as I used to, but it's always a great joy visiting different schools and delivering my own creative writing workshop.
Remembering that authors are not teachers, but a good author visit with pre-planned presentations can enhance the school year considerably. Hopefully the children will have a great day and be inspired.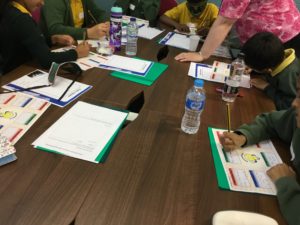 Of course no two authors are alike, but by taking them on a trip through the streets of Mexico City, and showing them how I became inspired to start writing myself, hopefully at the end of the day everyone will have produced a great story of their own.
My blog post on the 29th September 2017 noted some of the points that I felt helped to make an author visit the best it could be. An Able Writers' Day is obviously quite different to a quick author visit.
However here's an extract from my Authors' Abroad page.
Anna's School Visits
The sessions are adaptable and flexible. The time spent on each section will depend on the children's abilities and the schools objectives, but at the end of the day Anna expects that;-
• The children will have learnt something new!
• They are inspired and encouraged.
• They know how the seed of an idea can be developed.
• The children are proud of their work and feel they can showcase it at school.
• Of course, they had a fun day!
Meanwhile, whilst I love working with years 3 to 6 inclusive, I'm thinking that this year I need to visit a few reception and early years classes with my Rianbo's Travels series.
As always a busy year looms ahead with so much on the bucket list.
If you want something doing ask a busy person they say. Well I'm certainly going to be busy this year there's no doubt about that.
Be inspired!
Anna