Rianbo's Travels
January 22, 2019
---
I just love the Rianbo's Travels series – and just to confirm – the three new titles will be available for World Book Day this year.
UK World Book Day 7th March 2019.
So we now have;
Rianbo's Travels. Rianbo goes to Mexico. Rianbo goes to New York. Rianbo goes to Beijing. Rianbo goes to Agra. Rianbo goes to Sydney. Rianbo goes to Tokyo.
The next two books to be published will be London and Barcelona but we have no release dates for those yet.
For those of you reading this blog who don't know Rianbo's history, here it is.
She was birthed in the autumn of the year 2002 when I had a vision of a doll dressed in dungarees – all the colours of the rainbow – and wearing a baseball cap. At the time I was working in the child care sector and had traded for several years as Rainbow Child Care, but the business logo was a teddy bear sliding down a rainbow. I had been researching children and poverty in Spanish speaking countries and being delighted by the concept of my vision, I began to write my first ever short story. Suddenly, a homeless child -named Dolita – the name just came to me – was the central character of my story. Rescued from poverty and homelessness, by a kind lady, yes! Dolita was given a doll.
The first book was made in the nursery setting with the assistance of one of my nursery nurses. The doll image replaced the teddy bear and became the new Rainbow Child Care logo.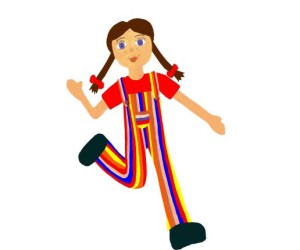 The first book Dolita, the Street Kid was later printed. I thought it was brilliant in those days.
Hum!!
Today, oh my gosh does it need a reprint and re hash? Of course. That's progress isn't it!
Time passed!! My vision evolved and it grew. A great friend managed to source some material and we made our first Rianbo doll.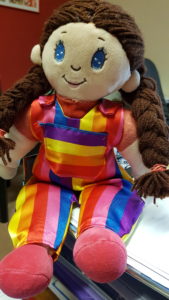 She travelled with me to Mexico City on what was later to become the first of many humanitarian trips. Why did I take Rianbo, only God knows. Perhaps it was prophetic as I did go on to write Rianbo goes to Mexico several years later. Or was it that childlike quality in me which I think I still have today? Whatever, I soon discovered that Mexico loved their rag dolls. All very colourful, for sale on every street corner, but none quite like mine. Rianbo is unique after all.
It was in in the beautiful city of Bologna in 2011, when visiting the International Book Fair, that I was later inspired to write Rianbo's Travels. During the same year I met and commissioned an illustrator to update my original design, registered the IPR and sent her off to China to be made.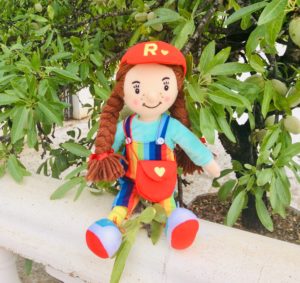 Rianbo is central to a song that I wrote -'The Street Kid Song' – which was recorded in the year 2008, by local children, and ultimately will be part of the Chavos Musical.
An exhibition at the London Book Fair in April 2015, which included my forthcoming Rianbo's Travels range, then in very early stages of development, received a huge amount of interest which was a great encouragement.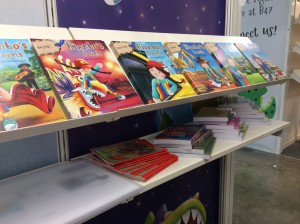 So here we are. Exciting times ahead!
A great series of educational and fun picture books for pre-school children.
But…. There's always a but isn't there. I now believe Rianbo should have a travelling companion.
Hum!
I wonder who or what? I think I will let the children in future school visits decide.
Lets see what they come up with, shall we?
Chat soon.
Anna