Rianbo's Travels Launch Party
March 3, 2016
---
Why do I blog? Well it empties the thoughts from my head, that's why. That, and of course making lists. I love making lists and ticking things off when they are done, it's so satisfying.
So with a list of many things to do this year, the first of which is the Rianbo's Travels launch. Yes a party, woop woop!
But who is Rianbo?
Well meet Rianbo. Everyone's favourite doll.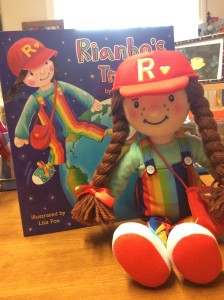 I was inspired to write Rianbo's Travels actually when I was visiting the International Book Fair in the beautiful city of Bologna in 2011. But I think I even had a flicker of the idea many years earlier when I was in Mexico City.
Interestingly it was in Bologna that I met an illustrator and over a coffee we seemed to forge the beginning of a friendship. She later became the illustrator for the Rianbo series and with 7 titles coming out this year I hope eventually to sell the foreign rights, releasing funds to carry on with more.
Added to the fact that Rianbo's Travels has been a flicker in my mind for some time, I also have a business in Yorkshire – Rainbow Child Care – and the doll is my logo and wait for it;-
Yes Chavos had to come into the equation somewhere didn't it!
If you read my first children's novel Chavos The Kids of Distrito Federal – fiction based on fact – you will see that the young street kid Dolita is given a doll by a stranger. None other than my very own Rianbo.
She also figures in a song that I wrote -'The Street Kid Song' – which was recorded by local children and ultimately will be part of the Chavos Musical. Yes, I am still believing .
Meanwhile, you must read my blog 24th August 2015 and find out more about the production. Oh my gosh it seems like only yesterday when I wrote that. Time passes far too quickly don't you think?
That said, I did a fabulous exhibition at the London Book Fair in April 2015, which included my forthcoming Rianbo's Travels range. Then in very early stages of development it received a huge amount of interest which certainly encouraged me.
So here we are. Exciting times ahead.
A great series of educational and fun picture books for pre-school children.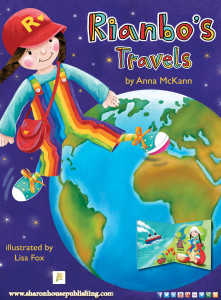 It's just surprising how long these things take. I suppose had I pitched to a large publishing house and been commissioned, they would have had the money to run with the vision. As for me, publishing myself it has had to be as finances allow! Note I didn't say self-publishing. Setting up my own small publishing company – Sharon House Publishing – is hardly self-publishing.
So in conclusion one of my favourite scriptures of all time is; 'the vision awaits the appointed time.' Habakuk 2 :2
Oh, and it's World Book Day so have a great day all you Bookies.
This is the year.
Keep you posted.
#amwriting #LoveToWrite
Anna