Tell a story and don't grouch!
February 26, 2018
---
Sorry but I will grouch!
As we herald towards World Book Day celebrated in the UK on 1st March, I am thinking of a few comments I have received this last couple of weeks on my picture book range – Rianbo's Travels.
By the way, World Book day is celebrated on 23rd April in Spain. More of that in my next blog.
Back to my grouch.
I don't want to take credit from the illustrator and the images for Rianbo's Travels are amazing. That's why I asked Lisa to work with me, because her style is exactly what I wanted for Rianbo. We actually met at the Bologna children's book fair several years ago and I knew then when I saw her portfolio, she was perfect for Rianbo.
What I do find somewhat annoying however, is when people look at the books and immediately comment on the illustrations. It's rare anyone picks up a book and comments on the idea and concept. Well not at first anyway!
Of course that's what it's all about, isn't it? They are picture books after all. BUT, does anyone stop to think about the bigger picture?
Fact
1) As the author of the series I specifically design every page, lay-out, visual etc.
2) Each book is based on facts and research.
3) The children's settings are based on my own nursery business.
4) Photos taken by me or visuals researched by me are sent to the illustrator as examples.
5) Character development, action, setting are all pre-planned and the illustrator is then given a brief.
6) Basically, I have a plan and can see each page before it is even illustrated.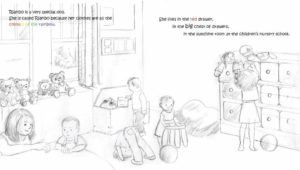 Many hours are spent in discussion as the illustrations develop, but teamwork has prevailed with excellent results.
So to my illustrator, you are great. But please don't forget to give some credit to the author guys.
O.K. grouch over…
Researching a couple of new cities now. Amongst a million and one other things.
#TimeToWrite #LoveWriting #WomenCanDoItAll #TimeManagement
Chat soon.
Anna